Shopping Basket
Your Basket is Empty
There was an error with PayPal
Click here to try again
Thank you for your business!
You should receive an order confirmation from Paypal shortly.
Exit Shopping Basket
Le Grand Réveil mon blogue
| | |
| --- | --- |
| Posted on 18 February, 2022 at 8:35 | |
警方確認在堪培拉抗議活動中使用了有爭議的 LRAD 設備
該設備一直是瘋狂聲稱的主題,但它到底是什麼以及它是如何在堪培拉使用的?
La police confirme l'utilisation d'un appareil LRAD controversé lors d'une manifestation à Canberra
L'appareil a fait l'objet de revendications sauvages, mais qu'est-ce que c'est réellement et comment a-t-il été utilisé à Canberra ?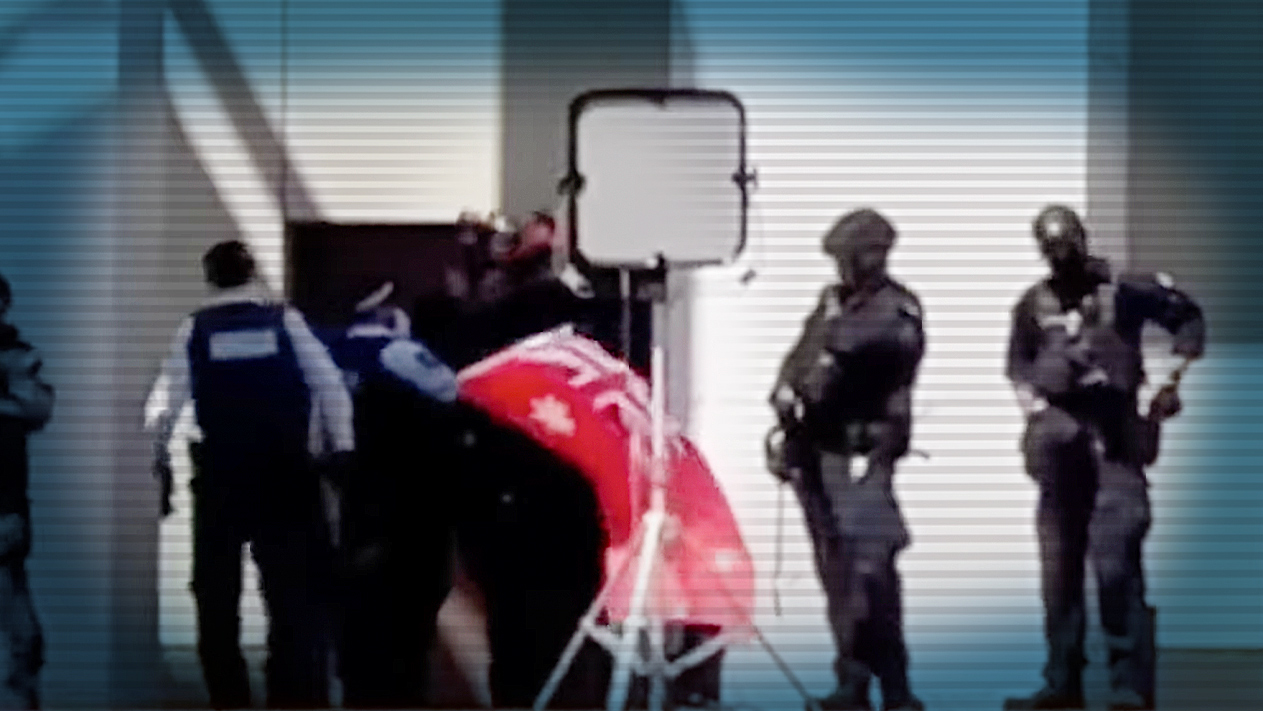 Ce qui a commencé au début de la semaine comme le «truc des théories du complot» a finalement été confirmé par la police.
La police du Territoire de la capitale australienne a admis avoir utilisé un appareil acoustique à longue portée (également connu sous le nom de LRAD) lors des rassemblements de Canberra Convoy Freedom devant le Parlement.
Un certain nombre de théories farfelues et ont émergé en ligne sur la façon dont le dispositif LRAD a été utilisé à Canberra et les allégations de blessures, mais les effets réels sont bien documentés.
Des rapports continuent d'arriver sur diverses blessures lors de la manifestation – la plupart liées à ce qui ressemble à des coups de soleil et à des coups de chaleur. Il existe également des réactions allergiques claires à partir de ce que certains pensent être un contact avec des produits chimiques.
Le dispositif LRAD a deux modes. Un réglage le transforme en un outil de contrôle des foules – également appelé « canon sonore », « dispositif de salutation acoustique » ou « arme sonique » – et l'autre mode, qui est celui qui était utilisé à Canberra, fait du LRAD un haut-parleur ou dispositif d'amplification pour relayer les messages à la foule.
Un porte-parole de la police a publié une déclaration à The Epoch Times confirmant : « ACT Policing a déployé plusieurs types de haut-parleurs et d'appareils d'amplification pour transmettre rapidement et efficacement des messages vocaux à des foules nombreuses et souvent bruyantes lors de la récente activité de protestation à Canberra. " 
http://www.theepochtimes.com/australian-police-confirm-use-of-lrad-sonic-weapon-at-protest-against-covid-19-vaccine-mandates_4280693.html

Cependant, cette confirmation n'est intervenue qu'après que le sénateur One Nation Malcolm Roberts et le sénateur libéral Alex Antic ont soulevé la question dans les estimations du Sénat le 14 février.
----
----
Le bureau de Malcolm Roberts a été inondé de plaintes de manifestants toute la semaine voulant savoir ce qui s'était passé pendant le rassemblement, ce qui l'a incité à faire part de ces préoccupations du public.
"Ce serait quelque chose qui relève de notre méthodologie policière selon laquelle nous devrions examiner un type de demande d'immunité d'intérêt public, sénateur", a déclaré le commissaire de la police fédérale australienne Reece Kershaw, interrogé par le sénateur Roberts.
"Il est sûrement dans l'intérêt public de savoir s'ils [LRADs] étaient là ou non sans trop se plonger là-dedans?"
"Je devrais […] Si je pouvais en tenir compte, je devrais demander conseil."
Le sénateur Antic, qui a assisté virtuellement aux estimations du Sénat, a brandi une photo du dispositif LRAD à côté de membres des forces de police. Malgré les preuves visuelles devant Kershaw, il a quand même choisi de différer la réponse.
"Avec l'avantage d'avoir cette photographie qui tend à le confirmer [les affirmations selon lesquelles il y avait un LRAD présent], nous ne pouvons toujours pas confirmer que cet appareil était là ce jour-là ?" demanda le sénateur Antic, tenant toujours la photographie.
Kershaw a insisté sur le fait que la question avait déjà été prise en compte.
Le LRAD n'était utilisé à Canberra que comme moyen de communication avec la foule.
Son utilisation a cependant alarmé de nombreux observateurs publics car le LRAD est techniquement une arme sonique de contrôle des foules qui, si elle est utilisée dans son autre cadre, projette des sons extrêmement forts sur de longues distances pour paralyser une foule. Le « réglage d'alerte » de l'appareil est particulièrement dangereux et est connu pour causer des dommages auditifs permanents, des étourdissements, une désorientation et des lésions cérébrales.
Essentiellement, l'appareil "pépie" la foule, provoquant des douleurs et des dommages auditifs potentiellement permanents. Son utilisation sur les foules reste très controversée, le NYPD se retrouvant devant un tribunal fédéral où il a été recommandé de suspendre leur utilisation contre les manifestants en état d'alerte.
Les LRAD ont été employés dans des contextes militaires, comme par les États-Unis en 2004, comme une forme de combat non létal. Un LRAD a été utilisé contre des foules lors du sommet du G20 de 2009 dans son mode armé, causant des blessures graves et permanentes. Il aurait également été utilisé contre la foule d'Occupy Oakland en 2011.
Comme un canon à eau repousse la foule avec la force d'un liquide, les canons sonores utilisent des vagues de bruit pour bombarder les gens. Ceux-ci peuvent être ciblés sur des parties spécifiques de la foule.
Aux États-Unis, il est fréquemment utilisé sur les foules dans son mode haut-parleur, comme cela a été fait à Canberra. De nombreux autres
pays utilisent également des LRAD à des fins de communication de masse.
La police fédérale australienne, la police du Queensland, la police sud-australienne, la police australienne occidentale et la police australienne de Victoria ont toutes confirmé avoir acheté l'un de ces appareils. Les forces de police du Territoire du Nord et de la Nouvelle-Galles du Sud n'ont fait aucun commentaire.
Les LRAD sont utilisés dans un large éventail de contextes et par divers ministères, généralement en mode haut-parleur. Il est également utilisé sur les pistes, les parcs solaires et éoliens et les exploitations agricoles pour effrayer les animaux loin de l'équipement.
L'ABC a publié un rapport préoccupé par l'achat de ces appareils en 2016.
«Ils peuvent interrompre les manifestations avec un son fort et perçant, mais les appareils acoustiques à longue portée peuvent également causer des dommages auditifs permanents. Les forces de l'ordre australiennes investissent maintenant dans la technologie, mais les experts du son et du droit affirment que leur utilisation potentielle est extrêmement préoccupante.
À l'époque, l'expert de l'Université de Melbourne, James Parker, a déclaré à l'ABC: «Le secret de l'État autour des outils, des armes qu'il possède et qu'il est capable d'utiliser sur sa population est quelque chose qui doit être vraiment, vraiment préoccupant. Cela élargit la nature de l'autorité policière/étatique/militaire d'une certaine manière. Il fait du son lui-même une partie de l'arsenal que la police et les institutions militaires et étatiques utilisent.
Bien qu'il n'y ait aucune preuve que les LRAD aient été utilisés dans leur capacité d'alerte à Canberra, il y a une véritable question de savoir si la police l'aurait fait ou non si la foule ne s'était pas aussi bien comportée qu'elle l'était.
Le convoi de Canberra - créé en sympathie avec le Canadian Freedom Convoy à Ottawa - s'est transformé en l'une des plus grandes manifestations de l'histoire de Canberra, culminant par un énorme rassemblement devant le Parlement.
Au cours des événements de la journée, des diffuseurs en direct et des membres de la presse indépendante ont signalé avoir eu beaucoup de problèmes avec leurs flux. Les participants ont également signalé une réception médiocre ou inexistante pendant une grande partie de la journée.
Ceci est considéré comme très inhabituel, car la zone autour du Parlement dispose d'infrastructures supplémentaires, en particulier pour faire face aux charges accrues causées par les manifestations et autres opérations politiques - étant donné qu'il s'agit du cœur du paysage politique australien.
Il existe des rapports non encore confirmés selon lesquels deux tours Telstra se sont effondrées pendant la journée, expliquant pourquoi les autres tours ont fini par être surchargées, ce qui est devenu un point noir pour les téléphones.
Au moins, le commissaire de police a convenu avec le sénateur Antic que - avec seulement trois arrestations pour une foule très nombreuse - les manifestants de Canberra se sont bien comportés.
Kershaw a accepté "plutôt pacifique", mais a ajouté qu'il n'aimait pas leurs attitudes. « Assez bien comportés. Beaucoup de mauvaises attitudes cependant, mais il n'y a pas d'offense pour cela. Donc, la police a fait pas mal d'abus, mais encore une fois, cela n'a pas franchi le seuil criminel.
Comparé aux manifestants de Black Lives Matter des années précédentes appelant "tous les salauds de flics", affichant des illustrations représentant des voitures de police en feu avec le mot "cochons" écrit dessus, et exigeant le démantèlement complet des forces de police – le convoi de Canberra s'est très bien comporté pendant les semaines qu'il a passées à prendre de l'ampleur à Canberra.
Néanmoins, il serait d'intérêt public important d'avoir une réponse définitive quant à savoir si la police a été autorisée ou non à utiliser le LRAD dans son autre capacité.
Me joindre, Yvan Dupont sur le Web:
GETTR: https://gettr.com/i/yvandupont
Télégram: https://t.me/realisationdupontcanada
Site Web: https://realisationdupont.ca/
Courriel: [email protected]
Source; REBELNEWS: Police confirm use of controversial LRAD device at Canberra protest
The device has been the subject of wild claims, but what actually is it and how was it used in Canberra?
http://www.rebelnews.com/police_confirm_use_of_controversial_lrad_device_at_canberra_protest

AUSTRALIA COVID VACCINES COVID PASSPORTS NEWS ANALYSIS NEWS CONVOY REPORTS

Categories: La revelation, Temoignage, Vérité - Technologie - Egalité
Ceci aide le maintien de mon site web dédié aux partage de la vérité, de la technologie et de l'égalité. Merci!
Forte tempête solaire, pourquoi cela s'est produit, Jupiter continue de changer | Actualités S0 24 mars 2023
/